Ralph and Barbara Shoots
The following is a brief history written in 1994 about Ralph and Barbara's
years in Chinchilla ranching until that time.
Both Ralph and Barbara have served Empress in many ways over the years. Ralph served on the National Board of Directors for 17 years, always with Barbara by his side. They served during some of the roughest years in the industry. Their devotion to Empress and the industry has helped to make things what they are today for the pelt market and enable Empress to be the number one Chinchilla organization in the world. Their constant effort to strive for the best has helped us all.
It all started in 1967 when, after graduating from Ohio State University, Ralph saw an advertisement that changed their lives: Raise Chinchilla for Fun and Profit. Having left the farm, this seemed a natural for them. They initially purchased six pair of Chinchilla. They soon learned that the quality ranchers were almost entirely Empress members. One thing led to another and they soon became acquainted with most of the successful ranchers in the industry. The natural sequence of events was to buy breeding stock from these outstanding ranchers.
A turning point in their ranching began in 1970 when they attended the International Show in California. This was the show to pick a World Champion male to be used for artificial breeding. The winner was Louise Nunn of Fallon, Nevada. Naturally, they went to Louise Nunn to purchase a few animals and the results proved to be exceptional bloodlines. In 1972 they purchased the entire Louise Nunn herd and became a full-time ranching family. A few months later they purchased the Harold Anderson herd that had dominated the Empress Standard National show for over 10 years. Their lives have been strictly CHINCHILLA since.
All four of their children, Rhonda, Sally, Nora and Joe were an active part of the ranching operation. Each had a daily job. Rhonda still helps out on weekends. All four learned the value of hard work and financial responsibility; important qualities that still serve them well.
In 1976 their ranching operation took on a new look. They purchased two 40' cargo trailers and began ranching in insulated trailers. This has expanded to 20 trailers and a two story 70' x 140' barn in addition to their original 32' x 56' two story barn.
The Shoots have competed in every ECBC National Show since 1972, with the exception of 1991 when Ralph judged both animals and pelts. In 1985 they went to Germany to compete in the American European International Show. The have competed in Europe four times and won the "World Cup" there twice. Ralph was honored to judge one of their shows during another trip. In the countries of South America, they have conducted numerous educational seminars and Ralph has acted as a judge at many of their shows.
Ralph served on the Empress National Board of Directors from 1974 through 1991 and continues to be involved on the state level with meetings and education. He has been an Empress sanctioned show judge since 1979. They have attended every annual meeting and judges seminar since joining Empress. Since its inception in 1975, Ralph has been involved with the Chinchilla Industry Council and currently serves as secretary-treasurer.
Barbara taught herself to pelt and does all the pelting on the ranch. She has taught hundreds of ranchers all over the world to do a professional job. She has written a flip chart book and her pelting is featured on two instructional videos. Her book is also available in other languages.
Ralph and Barbara have approximately 1200 breeding females in almost entirely the MD-XD color range. They have limited few mutations. For over ten years they have been at the top in Empress National Pelt Shows. Throughout their career to date, they have won personally in National and International competition of animal and pelt awards, 47 First Breeder; 44 Grand Show or Best Pelt of Show; 48 Reserve Grand Show or 2nd Best Pelt of Show and 13 Second breeder Awards. Their bloodlines have also won many top honors worldwide.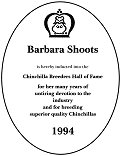 Inducted November 1994
Chinchilla Breeders Hall of Fame